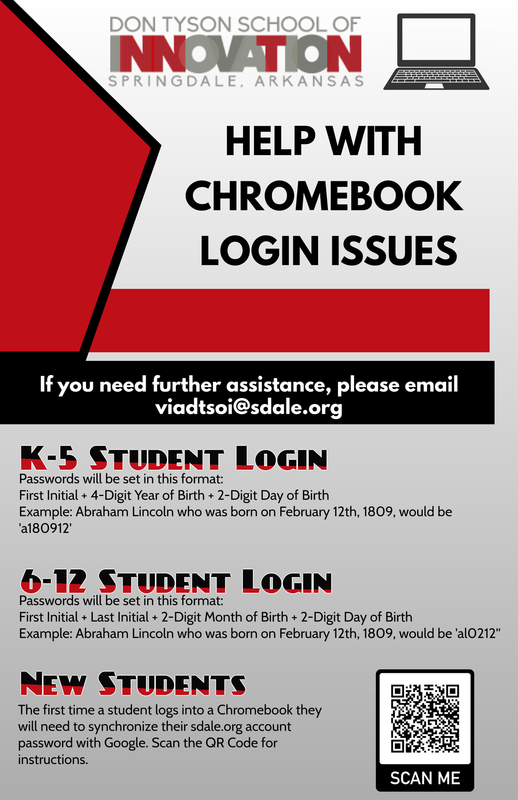 2020-2021 Chromebook Handout Plan for Virtual & Blended Students
All Face-to-Face students will be receiving their Chromebooks on the first day of school, August 24th, during their first period class.
Don Tyson School of Innovation will distribute Chromebooks to Virtual and Blended students in grades Kindergarten through 12th grade prior to the first day of school. Chromebooks will be distributed to students using a drive through style event. The dates and steps for retrieving your child's Chromebook are below. If you are picking up a Chromebook for multiple children, you will attend the pick-up date for your youngest child. Face-to-face students will get their Chromebook on the first day of school in their first period class. All students will be required to complete the Springdale School District Acceptable Usage Agreement (AUA) prior to receiving a Chromebook. The AUA is linked below and will also be available on paper on Chromebook pick-up dates below. Students will also have the option to enroll in the Springdale Chromebook Protection Plan (SCPP). This plan is linked in the AUA and costs $20. Payments may be made online (see AUA linked below) or in-person.
How does the Chromebook pick-up event work?
Students and families will arrive at school on their date (see left) between 9:00 am and 3:00 pm.

Students and families will enter campus through the South entrance. There will be signs pointing the way.

Students and families will follow the signs to the front door of Phoenix East (this is the front door of our school facing the East).

Students and Families will remain in the car.

A staff member will approach the vehicle and ask all families to sign and complete Springdale School District's Acceptable Use Agreement (AUA).

Once the AUA has been signed and returned, families will retrieve their child's Chromebook.
Springdale School District Acceptable Use Agreement (AUA)
Chromebook Insurance Costs Info: